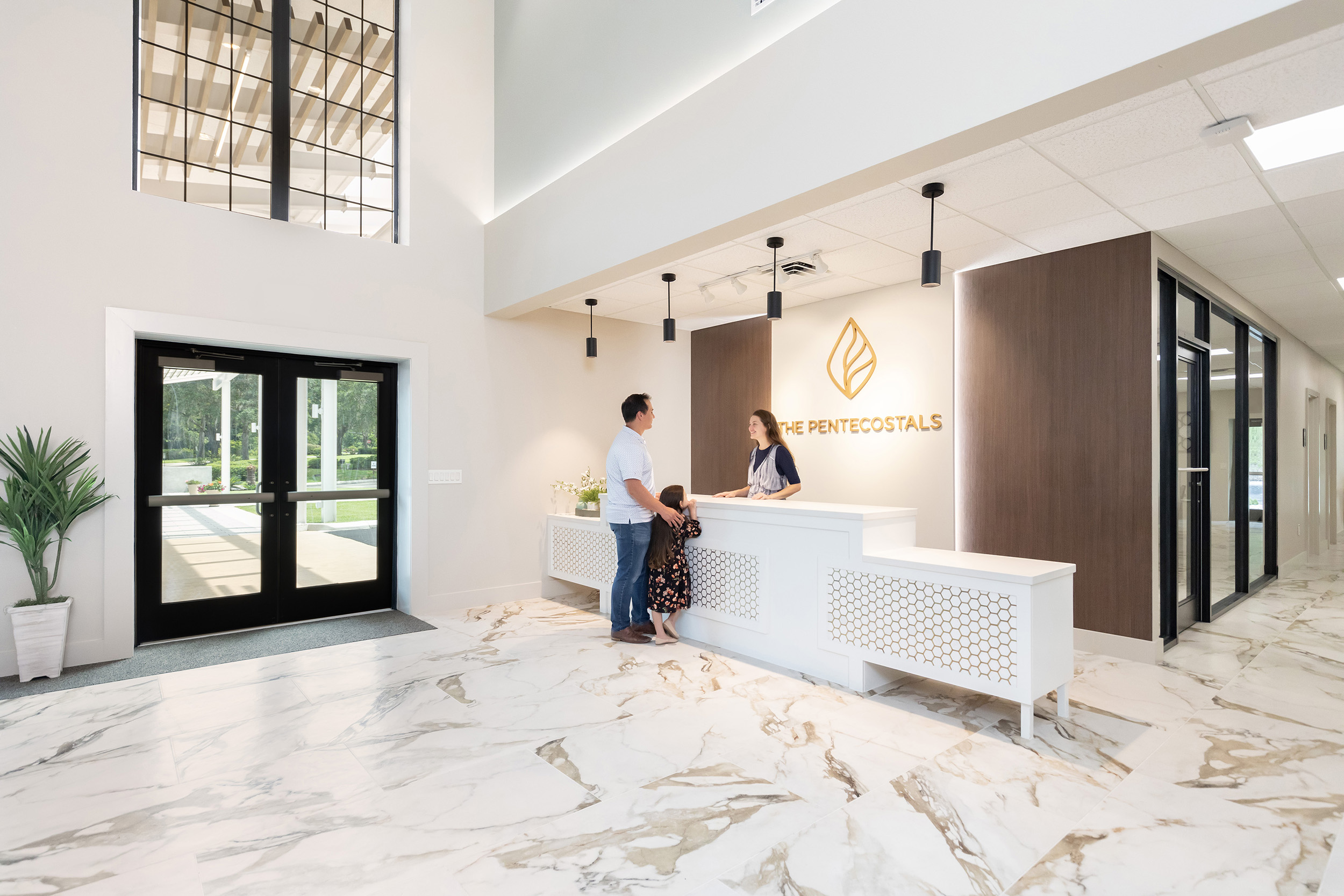 5 Things to Add to Your Next Church Building Project
At Arc Three, we believe in crafting exceptional worship and church designs that go beyond aesthetics, integrating thoughtful spatial planning and innovative elements to create sacred spaces that inspire spiritual connection, foster a sense of community, and elevate the worship experience for congregations. When designing a Church for today, we have identified five things that can greatly improve the experience of attending your church during your next building campaign. While this list is not an architectural 10 commandments, we believe these will set your church apart in a time when all churches are starting to feel repetitive.
1. Let There Be Light:
It was God who first said, "let there be light," and it did not come from an LED wall or projector. It was that perfect light which emanated from beyond, to the earth. While newer technology allows us to craft worship spaces with the utmost control over color, theme, and feeling, there is no substitute for the feeling that natural light gives a person in a space. You should consider the role that natural light should play in your next building project, its value, and how to control it. If our worship spaces are simply entertainment boxes devoid of natural light, are we creating healthy or reverent spaces? Natural light is proven to improve a person's health in many ways, better focus and alertness, improved mood, and so on. So, whether it is the sanctuary or finding other spaces to flood with glass, either way, let the light in.
2. Community Focused Spaces:
Churches traditionally operate 2-3 days a week at the most, but that is changing rapidly. In the ever-competitive market for families, churches should adapt their focus to utilize their buildings more frequently throughout the week. Dedicating part of your building to be open as a resource to your community Monday – Friday has a dual benefit. Firstly, it is an additional way to connect with the community your potential congregation lives in; the more you are available, the more likely they are to choose your church to worship at on Sunday.  Secondly, these spaces can be great drivers of revenue to help cover the cost of expensive building projects.  I'm not suggesting having a market in the Sanctuary, but perhaps you could use your educational wing as a daycare during the week. Or what about converting your old sanctuary to a beautiful wedding venue that would be in high demand.
3. A Quiet Reflective or Prayer Space:
Sanctuary and worship spaces are getting bigger and louder than ever before. People who attend your church may long for a more intimate and quiet space for private prayer and reflection. Prayer rooms and quiet spaces are falling by the wayside in favor of coffee shops and hospitality rooms, but placing an emphasis on this type of room in your next building project could make a big difference for your people. Large, loud spaces may not be the environment for everyone to be able to focus on their conversation with God; a more intimate and beautifully designed space could change that.
4. Honor the Past, Reach for the Future:
Church Architecture has changed drastically in the last 50 years, in some ways for the good, and others not so good.  A more budget conscious construction environment has cut out a lot of the architectural character that is symbolic of a religious structure, as well as the rapid increase in technology as referenced above in number 1 as a substitute for real architecture.  Your next church building can walk the fine line between honoring the past and reaching for the future with your selection of a qualified architect, implementation of authentic materials such as real stone and wood, as well as the creative implementation of newer ideas in construction. The vernacular of modern churches does not have to be a beautiful brick edifice with a steeple, but it should still be seen a place of reverence, however that comes together architecturally.
5. Dedicated Outdoor Space:
Dedicated outdoor community space can provide a ton of value to your next church building. Not only is it more affordable than conditioned square footage, but it is also infinitely flexible in its use.  You could host different community events throughout the year, or let it simply be an added amenity for families every week. At our TPOG project in Gainesville, we successfully converted an over-run and unused landscape area to a covered outdoor space which is now used for parties, food trucks, outdoor weddings, and other fun activities.
A new church building project is not an easy task, and getting the program and design right can be a challenge; but, with a quality architect on board you can navigate the uncertainty much easier. These 5 things are just a few of the ways that the architecture of your building can stand out in the crowd of cookie-cutter churches.